| | | | | |
| --- | --- | --- | --- | --- |
| [1] | Arrival in Montreal | | [5] | The meeting |
| [2] | Before the show | | [6] | In front of the Basilica |
| [3] | The first concert 1 | | [7] | The second night |
| [4] | The first concert 2 | | | |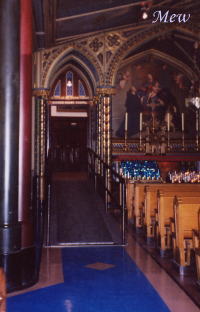 この通路の奥に行くと・・・


Wait

Well...
Mr.Staff really let me meet Bruno?

I made me calm, and went to the place he indicated. He was already there and waited for me.
"When I told him about you, he already knew you'd come to see this concert," said Mr.Staff.
My friend Belgian had told Bruno about my trip to Quebec when he went to Europe for the promotion.

"OK, here we go", he walked toward the dressroom. I followed him. Other Quebecois fans saw me off with warm eyes.

Entering staff only area, Mr. Staff introduced me to lots of people.
At the bottom of the steps, he asked me to wait a little time. 15 or 20 minutes maybe.
While I was waiting, several staffs spoke with me. They were surprised to know that I came only to see Bruno's concert. And they asked me how I knew Bruno, or how far from Japan.
Everyone was very kind to me, and I felt they welcomed me warmly.

Suddenly my body began shaking with too much tension. I never experienced like that. Mr Staff worried about me,"Mew, are you OK?"
...few minutes later, I became calm down. Thank you.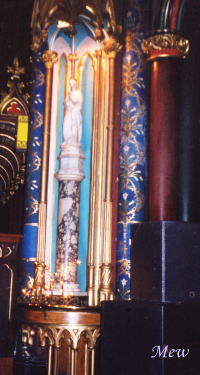 コンサート機器を周りに置かれたマリア像

Beyond the door

At last, Mr. Staff led me to the dressing room. Passing corridor, and he opened a door. Then, suddenly I found Bruno who was standing near the door and talking with another lady.

... Bruno...!!!

I had imagined he would be at the bottom of the room, so I was surprised. I hesitated to enter.

Bruno continued to talk for a while. Of course I didn't want to disturb them. But Mr. Staff invited me into the room and talked to Bruno, "here's Mew..."
I know Mr.Staff did that for me, but... no, don't bother them, I can wait!

After the show, he looked so busy. Maybe tired.
Shortly their conversation was over and Bruno turned to me.
"Mew? How are you...?" That was his first word for me. And he held out his hand for a handshake.

I have a nerve problem in my right hand so I had a little hope to shake hands with him... to make it better.
So I was surprised that it was Bruno who stretched out his hand. I remember better his hand thatn his face.

Bruno asked me which I prefered between English and French. I asnwered "I'd like to hear your French" in French.
"How was the concert?"
"Very good!"

After a little talk, Bruno smacked on my cheeks. Wow...!!!
It was almost first time that I was smacked on the cheek. In Japon, we don't have such custome. Maybe Bruno didn't know about that. But... that was good for me! ;-)

Then, I remembered one thing. "A question...!".
"What is your favorite instrument?" I asked.
"In the orchestra?" Bruno showed puzzled face. "well... perhaps violins."
I said, "until yesterday, I liked oboes the best. But today, it's your voice."
Then Bruno laughed with bashful and happy face. Oh, I made him laugh...

At last, Bruno said to me, "bye!" and our meeting was over. It must've been short time to be with him, but for me, it was very precious and enough long. Thank you so much for share your time with me.
This will never happen, to meet him specially after the show.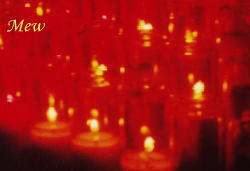 In one night, two dreams came true. One is to see Bruno's concert. And another, to talk with him.

Coming back to the hall, my friends waited for me at the seat already dark. One friend who organized the fan meeting asked me warmly "how was it?"
I cried so much in her arms...

[Retern to the top]
Next

(Wait a while!)


| | | | | | |
| --- | --- | --- | --- | --- | --- |
| [1] | Arrival in Montreal | [2] | Before the show | [3] | The first concert 1 |
| [4] | The first concert 2 | [5] | The meeting | [6] | In front of the Basilica |
| [7] | The second night | | | | |
Bruno Pelletier Japan --- Bruno, Blue, Basilica 5