| | | | | |
| --- | --- | --- | --- | --- |
| [1] | Arrival in Montreal | | [5] | The meeting |
| [2] | Before the show | | [6] | In front of the Basilica |
| [3] | The first concert 1 | | [7] | The second night |
| [4] | The first concert 2 | | | |
The concert began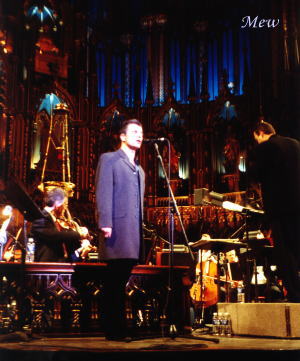 (The photos are the ones at the second night)


Bruno greeted the audience and sometimes amused them with funny gestures and words. I couldn't understand all, but it was very fun.
And he asked us to be silent because they would record this show.

I had heard that they would record this show and they release a Christmas album the following year. But I was glad to hear that from Bruno himself. These presious moments will remain for ever and we can listen to it whenever we want. How lucky!

Bruno finished the greeting and went out, but at once he reappeared. "I forgot to present the important person..." and presented the conductor of orchestra, Mr. Simon Leclerc. After Bruno was out, the overture only with orchestra started.
...Oh, Bruno, you did! If there's not a conductor on the stage, the concert doesn't begin. Are you nervous?

Angels came down

And Bruno appeared again and the orchestra began played "Sainte Nuit (Silent Night)". Bruno chante this song in another artist's album. It's fantastique and I believe he would sing it at this concert.
I was very glad but the tune was a little different from normal one. I felt it a little slow, but not for sure. Bruno sang it calm and tenderly.

... To hear this voice, I came here far away...

I was touched but I didn't realize it was real. That was because of distance from Bruno.
But even if I cannot see Bruno's face, I can listen to his voice. Yes, I came her to listen to him, not to see him. Honestly speaking, it took time to satisfy myself, but Bruno's voice blowed out such feeling eventually.

He sang "Have yourself a Merry Little Christmas" and then, "Ave Maria" of Gounod.
Of course "Ave Maria" was included in the list of preparation! :-) Bruno sang two Ave Maria and I had listened to both.
When Bruno sang Ave Maria, I felt like the song had wings and expanded. As if angels came down to Bruno.



Tears

The next song was "Mon beau sapin (my beautiful fir tree)." With Bruno's voice, I could imagine the fir tree forest covered with snow.
And "L'enfant roi" of the orchestra music, composed by the conductor Simon. It was beautiful, and after the end of the music, Bruno said "it's beautiful!" I think this conductor arranged all the songs of this concert and they were all well done. He must be talented at composing.

"Joyeax Noel (Merry Christmas)" with wonderful voice of Bruno. I cannot find the proper others words, but it was really wonderful.

"Miserere" was in his 5th solo album, written in Italian. When I listened to it for the first time, I was very surprised because it was in Italian, but now it's a good memory.

Lots of memories came up to my heart and I cried again and again.

With big applause, Miserere ended and Bruno announced the intermission. "20 minutes exactly", he said.

[Retern to the top]
Next

| | | | | | |
| --- | --- | --- | --- | --- | --- |
| [1] | Arrival in Montreal | [2] | Before the show | [3] | The first concert 1 |
| [4] | The first concert 2 | [5] | The meeting | [6] | In front of the Basilica |
| [7] | The second night | | | | |
Bruno Pelletier Japan --- Bruno, Blue, Basilica 3