| | | | | |
| --- | --- | --- | --- | --- |
| [1] | Arrival in Montreal | | [5] | The meeting |
| [2] | Before the show | | [6] | In front of the Basilica |
| [3] | The first concert 1 | | [7] | The second night |
| [4] | The first concert 2 | | | |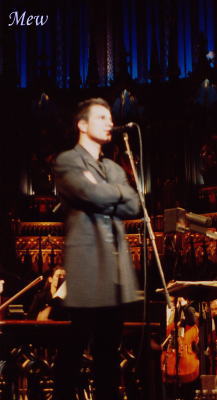 (ces photos à la deuxième soirée)


The songs of love and peace

The second part started with the orchestra's music.
And Bruno presented the next song, "Enfants Oublies (Chirldren forgotten)". When I heard this title, I was surprised.

Before the preparation, I hadn't known this song. But while searching the Christmas songs, I found this title and I couldn't forget it. This song was included in the CD I ordered, but not the linernote, so I understood the lyrics only in half, but with the phrase "I'm hungry, I feel cold, almost naked...", this song stays in my heart deeply.

So I was glad that Bruno chose this song, maybe with the same feeling.

After singing Ave Maria of Schubert, Bruno said "this section is a little different from the traditional Christmas songs, but I'd like to sing the ones of love and peace." And he began singing "Quand les hommes vivront d'amour (when people live with love)".

"When people live with love and peace, There will be no miserable things..."
The arrangement has been changed and with the orchestra, this song touched me more.

Bruno sang "It's a wornderful world" slowly and heartfully, and the next one was "Imagine" of John Lennon.

With Bruno's voice, the words in this song seemed the ones of Bruno.
"They say I'm a dreamer, but I'm not the only one...." Yes, Bruno, you're not the only one. Maybe me, too, I'm on your side.



The most beautiful instrument

Bruno finished "Imagine".
Suddenly, several memories came to my heart.

When I decided this trip to Quebec, my friend said "Le Japon arrive! (Japan arrives!)". And when I injured my hand in the accident, she also said "Take care. How will you applaud with one hand?"

Bruno's fans are always kind to me who don't speak well French. They sent me Bruno's photos, Bruno's articles, or videos which I cannot get in Japan. Thank you so much, By grace of you, I can come here.

With lots of emotions, I couldn't stop my tears. During this concert, I cried again and again, but this time it was the most.

Bruno sang "Ensemble (together)" composed by Simon and written by Bruno.

"And the last song," said Bruno. Already?
He sang "Adeste fideles" strongly. And as the encore, "Minui Chretien". Both were traditional Christmas songs. It was excellent! Wonderful, Bruno!

... It wouldn't be the end...
I applauded with big big hope, then he said "I sang all the songs I prepared..." But for the better accomplishment for recording, he sang "Sante Nuit" and "Ave Maria" again.

From the seat looking down Bruno far away, his body looked like melting with other musicians of orchestra. Ah, Bruno, you are an instrument. Your voice is the most beautiful instrument in the world...

The concert was over.
But one more time, I can listen to the same songs, same voice, Bruno... I was glad.

[Retern to the top]
Next

| | | | | | |
| --- | --- | --- | --- | --- | --- |
| [1] | Arrival in Montreal | [2] | Before the show | [3] | The first concert 1 |
| [4] | The first concert 2 | [5] | The meeting | [6] | In front of the Basilica |
| [7] | The second night | | | | |
Bruno Pelletier Japan --- Bruno, Blue, Basilica 4